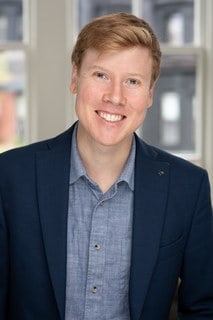 "It's a dry heat"
Born and raised in sunny Scottsdale, Arizona, Corey moved moved to Boston in 2006 to attend Berklee College of Music. While in school, Corey studied guitar and majored in Music Production and Engineering. During that time, he enjoyed meeting new people from diverse backgrounds and exploring everything Boston had to offer. Four years later, he had earned his degree, however, his Boston adventures had only just begun... [...]
"It's a dry heat"
Born and raised in sunny Scottsdale, Arizona, Corey moved moved to Boston in 2006 to attend Berklee College of Music. While in school, Corey studied guitar and majored in Music Production and Engineering. During that time, he enjoyed meeting new people from diverse backgrounds and exploring everything Boston had to offer. Four years later, he had earned his degree, however, his Boston adventures had only just begun...
His professional experience includes seven years working at the Cambridge Innovation Center. At CIC, he wore many hats and was involved with office curation, client services, event planning, tech troubleshooting, facilities management, project management, and construction management, among other things. One of his largest projects included a custom office buildout for a little-known startup called Facebook. He describes his time at CIC as an "amazing ride," and feels blessed to have been a part of such a vibrant, inspiring community of entrepreneurs.
Corey has a profound curiosity about the world around him, and firmly believes that everyone has something to teach. As an avid listener, he looks forward to meeting new people and helping them along their journey in finding a home or commercial space that fulfills their needs.
In his free time, Corey enjoys collecting records, making music, reading, meditating, grooming his cat, and taking the ol' Wrangler out for a spin. Road trip, anyone?
Office Location
535 Albany St, Unit 101C
Boston, MA 02118
Contact Info
Specifications
Languages:
Specialties:
Service Area:
Contact
Hi there! How can we help you?
Contact us using the form below or give us a call.
Hi there! How can we help you?
Contact us using the form below or give us a call.